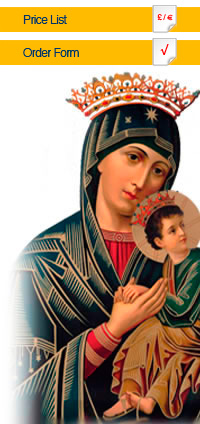 Our online Catalogue illustrates our standard Religious Goods range which is
available from extensive on site stocks. - immediate delivery
(Click menu oppostions to the left).
Distributors and Retail dealers - Call for trade terms.

We also supply
All items of Church furniture and fittings
Agents in Ireland and U.K. for the main producers of hand carved statues in wood and also moulded fibreglass and bronze.
Christmas Nativity sets and crib figures for Churches, Convents,
Schools and Homes.
Candles, Altar wine, Vestments, Church envelopes and supplies.
Telephone for immediate service -
Tel: (028) 3086 1522 / (028) 3086 8719
Fax: (028) 3086 8352
Rep. of Ireland prefix (048)
NEXT DAY DESPATCH GUARANTEED.





Terms = Orders in excess of £150.00 carriage paid UK and Ireland
Orders under £150.00 will be subject to a carriage charge
of £20.00 for UK - (or €30.00 Rep. of Ireland).